[ October 8th, 2016 RLSpeakTM Company Beijing. China ]
Following the successful launch of mobile phone encryption, intercom encryption and real-time voice communications encryption solutions/products, Beijing ReliaspeakTM Information Technology Co., Ltd. officially released "RLSpeakTM Telephone Encryption Companion (TEC)" on October 8, adding an important member to RLSpeakTM encryption communication product family.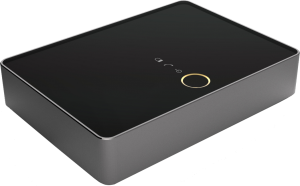 "RLSpeakTM TEC", with a door-style design, small size, easy-using, is just connected in series between the ordinary phone and telephone lines, helping users to switch plain/encrypted state at any time during call.
In addition to be able to make a secure call between landlines, RLSpeakTM TEC can also realize intercommunication between landline and cell phone with the use of RLSpeakTM MEC, this is the only product realized end-to-end encryption communication between landlines and mobile phones using digital encryption technology both in domestic and abroad.