[ May 14th, 2018 RLSpeakTM Company Beijing. China ]
First of all, thanks for the industry colleagues and users long-term attention and utmost support to the RLSpeak technology!
With concept of continuous improvement, RLSpeak has always been committed to optimizing AMSI technology, improving the quality of encrypted voice and product practicality in the past two years, in order to provide the better encryption communication products and be worthy of expectations. With unremitting efforts, the RLSpeak product family is going to launch the flagship product – RLSpeakTM SEM1 Crypto Mobile phone.
RLSpeak™ SEM1 Crypto Mobile phone is a high-performance Android smart business phone, with encrypted calls as the core function and multiple privacy protection functions at the same time. RLSpeak™ Smart Encryption Mobile phone (SEM1) adopts the world leading AMSI digital MODEM technology as the core, is the first crypto mobile phone in the world using digital voice encryption technology to provide end-to-end encryption communication protection based on traditional voice channel and public VoIP applications.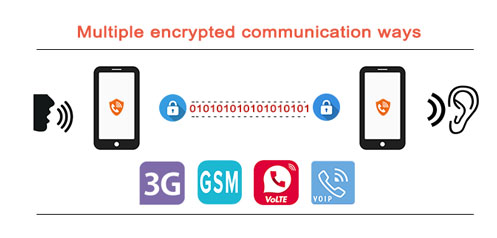 With the rapid development of mobile communication technologies and smart devices, mobile phones have become an indispensable tool for people's work and life nowadays. An excellent crypto mobile phone must be able to protect users' privacy in all aspects and at all times, and minimize the constraints of external conditions, which also is the RLSpeak original intention of SEM1 R&D.
Safe enough to use rest assured
Security is to make it impossible for hackers to crack your secrets, and security must also be self-controllable!
First, SEM1 uses digital voice encryption technology, supports key agreement algorithm based on digital certificates, and uses CTR mode AES-256 cryptographic algorithms to encrypt digital voices. Its security is equivalent to VPN products that use the same cryptographic algorithm, and truly realize the air interface voice zero residue understanding, with unmatched security level comparing with traditional analog voice encryption products.
Secondly, when communicating encrypted, SEM1 will digitalize and encrypt the user's voice collected by the microphone at the device driver layer at the first time, and then passes the encrypted signal (audio signal modulated by AMSI) to the upper standard telephone application or VoIP application to do the call operation. No need to use any third-party security services, which truly achieves end-to-end encryption protection at the audio source level, and achieves user security self-controllable.
General enough to use at any time
The mobile phone must be able to use anywhere, anytime, and the encrypted calls must also be able to use anytime, anywhere
SEM1 does not rely on carriers or any third-party services to achieve encrypted calls based on standard 2G, 3G, and VoLTE voice channels. It also supports encrypted calls using third-party VoIP applications such as Skype and WeChat phonebooks, so that users can select encryption communication ways flexibly according to where they are and the actual line conditions, to get the best encrypted voice effect. In addition, SEM1 is also able to communicate with RLSpeak encrypted landline telephone products, encrypted VoIP phone products, to achieve full coverage of all kinds of encrypted voice application requirements, fully embodying the advanced concept of RLSpeak on security products.
Perfect enough to use fully
The crypto mobile phone must not only protect the security of the call, but also protect the system, data, and application security!
SEM1 is a high-performance Android business mobile phone, using an enhanced operating system, integrating security mechanisms such as kernel protection and secure boot, and has solid network attacks against and Trojan defense capabilities. At the same time, for the user's different privacy protection needs, SEM1 provides a multiple of security application plug-ins, including: privacy data protection, SMS / email encryption, WeChat encryption, anti-recording, photo encryption, remote lock, and so on, fully meet the needs of professional users for business phone performance and security.